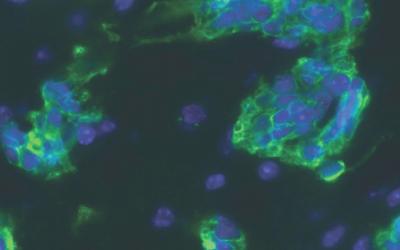 The Effect of Extracellular Matrix and Cell Surface Proteoglycans on Oncogenic Signaling
Using both in vivo and ex vivo model systems we are investigating how interactions between tumor cells and components of their microenvironment confer altered receptor tyrosine kinase signaling, tumor cell invasion, and resistance to targeted therapies.
Related Publications
Barnes JM, Kaushik S, Bainer RO, Sa JK, Woods EC, Kai F, Przybyla L, Lee M, Lee HW, Tung JC, Maller O, Barrett AS, Lu KV, Lakins JN, Hansen KC, Obernier K, Alvarez-Buylla A, Bergers G, Phillips JJ, Nam DH, Bertozzi CR, Weaver VM. A tension-mediated glycocalyx-integrin feedback loop promotes mesenchymal-like glioblastoma. Nat Cell Biol. 2018 Oct;20(10):1203-1214. doi: 10.1038/s41556-018-0183-3. Epub 2018 Sep 10. 
Tran VM, Wade A, McKinney A, Chen K, Lindberg OR, Engler JR, Persson AI, Phillips JJ. Heparan Sulfate Glycosaminoglycans in Glioblastoma Promote Tumor Invasion. Mol Cancer Res. 2017 Aug 4. doi: 10.1158/1541-7786.MCR-17-0352.
Miroshnikova YA, Mouw JK, Barnes JM, Pickup MW, Lakins JN, Kim Y, Lobo K, Persson AI, Reis GF, McKnight TR, Holland EC, Phillips JJ, and Weaver VM. Tissue mechanics promote IDH1-dependent HIF1α-tenascin C feedback to regulate glioblastoma aggression. Nat Cell Biol. 2016 Dec;18(12):1336-1345. 2016. doi:10.1038/ncb3429. 
Phillips JJ, Huillard E, Robinson AE, Ward A, Lum DH, Polley MY, Rosen SD, Rowitch DH, Werb Z. Heparan sulfate sulfatase SULF2 regulates PDGFRa signaling and growth in human and mouse malignant glioma. J Clin Invest. 2012 Mar 1; 122(3):911-22.