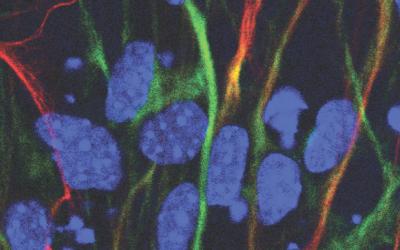 Tumor Evolution and the Development of Improved Disease Biomarkers
The spatial and longitudinal analysis of human tumor tissue is critical to better understand tumor evolution and mechanisms of progression and therapeutic resistance. Working as part of a multi-disciplinary team of investigators we are investigating the cellular landscape of diffuse glioma with the goal of defining determinants of disease progression. We will first define the degree of intratumoral and intertumoral heterogeneity at the cellular- and protein-level across diffuse gliomas.  We will then determine whether this pattern is altered at disease progression.
Related Publications
Mueller S, Jain P, Liang WS, Kilburn L, Kline C, Gupta N, Panditharatna E, Magge SN, Zhang B, Zhu Y, Crawford JR, Banerjee A, Nazemi K, Packer RJ, Petritsch CK, Truffaux N, Roos A, Nasser S, Phillips JJ, Solomon D, Molinaro A, Waanders AJ, Byron SA, Berens ME, Kuhn J, Nazarian J, Prados M, Resnick AC. A pilot precision medicine trial for children with diffuse intrinsic pontine glioma-PNOC003: A report from the Pacific Pediatric Neuro-Oncology Consortium. Int J Cancer. 2019 Mar 12. doi: 10.1002/ijc.32258.
Phillips JJ, Gong H, Chen K, Joseph NM, van Ziffle J, Bastian BC, Grenert JP, Kline CN, Mueller S, Banerjee A, Nicolaides T, Gupta N, Berger MS, Lee HS, Pekmezci M, Tihan T, Bollen AW, Perry A, Shieh JTC, Solomon DA. The genetic landscape of anaplastic pleomorphic xanthoastrocytoma. Brain Pathol. 2018 Jul 27. doi: 10.1111/bpa.12639. 
Byron SA, Tran NL, Halperin RF, Phillips JJ, Kuhn JG, de Groot JF, Colman H, Ligon KL, Wen PY, Cloughesy TF, Mellinghoff IK, Butowski N, Taylor J, Clarke JL, Chang SM, Berger MS, Molinaro AM, Maggiora GM, Peng S, Nasser S, Liang WS, Trent JM, Berens ME, Carpten JD, Craig DW, Prados MD. Prospective feasibility trial for genomics-informed treatment in recurrent and progressive glioblastoma. Clin Cancer Res. 2017 Oct 26. pii: clincanres.0963.2017. doi:10.1158/1078-0432.CCR-17-0963. [Epub ahead of print]
Hayes J, Yu Y, Jalbert LE, Mazor T, Jones LE, Wood MD, Walsh KM, Bengtsson H, Hong C, Oberndorfer S, Roetzer T, Smirnov IV, Clarke JL, Aghi MK, Chang SM, Nelson SJ, Woehrer A, Phillips JJ, Solomon DA, Costello JF. Genomic analysis of the origins and evolution of multicentric diffuse lower-grade gliomas. NeuroOncol. 2017 Oct 25. doi: 10.1093/neuonc/nox205. [Epub ahead of print]
Mazor T, Pankov A, Johnson BE, Hong C, Hamilton EG, Bell RJ, Smirnov IV, Reis GF, Phillips JJ, Barnes MJ, Idbaih A, Alentorn A, Kloezeman JJ, Lamfers ML, Bollen AW, Taylor BS, Molinaro AM, Olshen AB, Chang SM, Song JS, Costello JF. DNA Methylation and Somatic Mutations Converge on the Cell Cycle and Define Similar Evolutionary Histories in Brain Tumors. Cancer Cell. 2015 Sep 14;28(3):307-17. doi: 10.1016/j.ccell.2015.07.012.