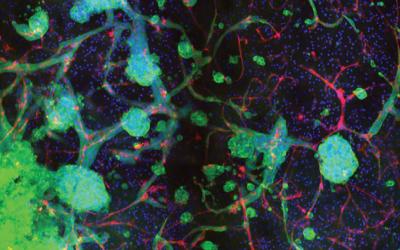 Modeling Human Brain Tumors and Investigating Mechanisms of Tumor Progression
Our lab continues to build tools to better model the human disease and measure changes in tumor biologic behavior. Currently, we use primary cultured human brain tumors, human brain tumor xenografts, and a robust immunocompetent murine model for diffuse glioma. 
Using these models, we investigate mechanisms of tumor growth, tumor invasion, and resistance to therapy. In addition, we are developing systems to quantify the dynamic cellular interactions in the tumor microenvironment in vivo and ex vivo using a spinning disk confocal microscope and fluorescently tagged tumor cells.  
Related Publications
McKinney A, Lindberg OR, Engler JR, Chen KY, Kumar A, Gong H, Lu KV, Simonds EF, Cloughesy TF, Liau LM, Prados M, Bollen AW, Berger MS, Shieh JTC, James CD, Nicolaides TP, Yong WH, Lai A, Hegi ME, Weiss WA, Phillips JJ. Mechanisms of resistance to EGFR inhibition reveal metabolic vulnerabilities in human GBM. Mol Cancer Ther. 2019 Jul 3. pii: molcanther.1330.2018. doi: 10.1158/1535-7163.MCT-18-1330. [Epub ahead of print]
Huang M, Tailor J, Zhen Q, Gillmor AH, Miller ML, Weishaupt H, Chen J, Zheng T, Nash EK, McHenry LK, An Z, Ye F, Takashima Y, Clarke J, Ayetey H, Cavalli FMG, Luu B, Moriarity BS, Ilkhanizadeh S, Chavez L, Yu C, Kurian KM, Magnaldo T, Sevenet N, Koch P, Pollard SM, Dirks P, Snyder MP, Largaespada DA, Cho YJ, Phillips JJ, Swartling FJ, Morrissy AS, Kool M, Pfister SM, Taylor MD, Smith A, Weiss WA. Engineering Genetic Predisposition in Human Neuroepithelial Stem Cells Recapitulates Medulloblastoma Tumorigenesis. Cell Stem Cell. 2019 Jun 13. pii: S1934-5909(19)30217-6. doi: 10.1016/j.stem.2019.05.013. 
Mazor T, Chesnelong C, Pankov A, Jalbert LE, Hong C, Hayes J, Smirnov IV, Marshall R, Souza CF, Shen Y, Viswanath P, Noushmehr H, Ronen SM, Jones SJM, Marra MA, Cairncross JG, Perry A, Nelson SJ, Chang SM, Bollen AW, Molinaro AM, Bengtsson H, Olshen AB, Weiss S, Phillips JJ, Luchman HA, Costello JF. Clonal expansion and epigenetic reprogramming following deletion or amplification of mutant IDH1. Proc Natl Acad Sci U S A. 2017 Oct 3;114(40):10743-10748. doi: 10.1073/pnas.1708914114. Epub 2017 Sep 15.
Fan Q, Aksoy O, Wong RA, Ilkhanizadeh S, Novotny CJ, Gustafson WC, Truong AY, Cayanan G, Simonds EF, Haas-Kogan D, Phillips JJ, Nicolaides T, Okaniwa M, Shokat KM, Weiss WA. A Kinase Inhibitor Targeted to mTORC1 Drives Regression in Glioblastoma. Cancer Cell. 2017 Mar 13;31(3):424-435.doi:10.1016/j.ccell.2017.01.014. 
Phillips JJ, Gong H, Chen K, Joseph NM, van Ziffle J, Jin LW, Bastian BC, Bollen AW, Perry A, Nicolaides T, Solomon DA, Shieh JT. Activating NRF1-BRAF and ATG7-RAF1 fusions in anaplastic pleomorphic xanthoastrocytoma without BRAF p.V600E mutation. Acta Neuropathol. 2016 Nov;132(5):757-760. 
Lindberg OR, McKinney A, Engler JR, Koshkakaryan G, Gong H, Robinson AE, Ewald AJ, Huillard E, James CD, Molinaro AM, Shieh JT, Phillips JJ. GBM heterogeneity as a function of variable epidermal growth factor receptor variant III activity. Oncotarget. 2016 Oct 12.